There are a few range of sterilizers in the market right now and after a few other comparisons, we have decided to try out HANIL UV sterilizer and dryer for ourselves. Having a toddler and newborn means I really need to manage the time I have on hand; that also means that I need to cut down on unnecessary time spent on doing other things. With HANIL, I have been able to achieve better management of time and at the same time not compromising on the importance of my baby's health and safety.
For my first baby, we had used a steam sterilizer. The steam sterilizer requires us to top up the water in the water bank and the remaining of the work is done with the push of the start button. Sounds fairly easy isn't it? It isn't difficult to use a steam sterilizer however there are definitely a few points worthy for the upgrade:
I no longer had to deal with the water droplets that forms while steaming the bottles
No more scalding of hands while removing the top cover after the process is completed
The bottles and teats are not hot to touch and I can assemble them as they are ready to use
Easier to organize as the sides are square (I can sterilize more items in one go!)
Comes with a storage function to keep the bottles in it for the next use. The bottles would be auto sterilize every 2 hours so it is clean and ready to use. No more fretting of assembling the wet hot bottles and finding a space to keep everything. We all know how constraint kitchen tabletop spaces are.
Easy to maintain. My steam sterilizer's water bank develops lime scale after a period of time and I need to descale it every now and then. I have to buy the sachets separately. I also take apart the containers (other than the motor parts) to wash every two-three days to prevent build-up of mould. The UV sterilizer on the other hand can be clean with a slightly damp cloth internally.
I don't need to worry if my toddler suddenly decides to open it while it operates because the sterilizer will stop immediately once the lid is open at any point during its function.
Easy to use! My confinement aunty learnt how to use in one guide.
In the past, the older generations simply boil the bottles/ teats/ whatever to kill the bacteria. But to use this method, one would have to boil the items in the water for an appropriate amount of time. But, I where got time to supervise a hot pot of water, a running toddler with a million questions and a newborn?
How to use the HANIL UV Sterilizer Dryer?

Firstly, wash all bottles/ tears/ breast pump parts and remove any excess water from the wash. Place the parts in the upper and lower tray. Bottles should be faced upwards for better disinfection.

For our first try-out, we dumped in everything from bottles to pump flanges and silicon massager.
After loading in the items, switch on the power and press on by opening the top inlet. followed by the function you require.
AUTO: We went for 'Auto', which will sterilize, dry and store the items until we need to use it. This will take about 40 mins on the whole.
STERILIZE: Done without the drying process and takes about 10 mins.
CLEAN: Used to remove any odour in the sterilizer and takes about 10 mins.
STORAGE: To keep the sterilizer clean at all times. UV sterilization (2 minutes) and ventilation (20 seconds) will be repeated in every 2 hours interval.
You know what I really like about UV sterilizers? I can throw in everything from baby bottles, teethers, toothbrush, nail clippers, pacifiers to my daughter's soother (臭臭)when I forgot to give it a wash. Can you imagine how much bacteria and germs her soother brings back from school everyday? If there was such a thing I would probably install a sterilizer on my door gates! However, with the UV Sterilizer, I can simply put the soother in and kill all the bacteria in a jiff! My daughter really hates waiting for her soother to dry. I would still give it a wash on the weekends for general cleaning though.

Find out more on how to use the Sterilizer here: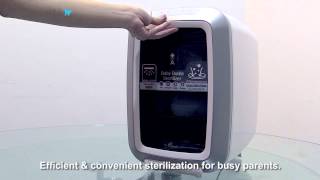 Oh, you know the other day I happened to read that some HANIL UV Sterilizers were recalled? Read article here. I went to clarify and apparently this affects a specific batch of sterilisers which were supplied with the wrong filter by 3M, the current stocks on hand from Gaia website are from the latest production dated Aug 2016 so they do not have any issues. Also, did you know that HANIL is the only UV steriliser that has been independently lab tested by PSB Singapore (TUV SUD) on its efficacy? (more than 99.97% bacteria reduction) Another point to note was that the product is made in Korea. Not made in Korea but assembled elsewhere.
I hope this helps you in deciding if a UV Sterilizer works for you. Here's a promo code for all you lovely readers as you purchase the trusty HANIL UV Sterilizer from Gaia.com.sg:
Checkout your cart with promocode LPFGAIA and enjoy HANIL at a promo price of S$369 (U.P.S$399) with a complimentary GAIA newborn set (Hair & Body Wash 200ml + Baby Moisturiser 250ml) worth S$41.80! Happy Shopping!
Disclaimer: I was partially sponsored for this review. No monetary payment was received. All content and opinions expressed here represent my own and are honest based on my own personal experience.